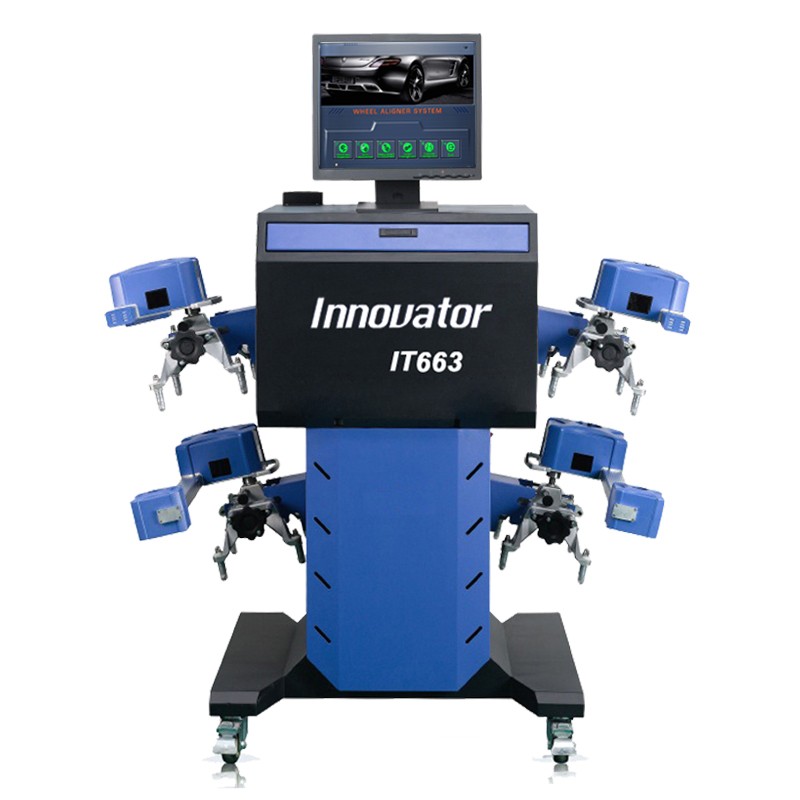 Warning: Last items in stock!
New product
Availability date:
CCD Wheel Alignment IT663
More info
Description
Function &Features:
1. The measurement accuracy is up to 0.01°.
2. Customer-feedback reminders: timely reminds users to report review and follow up system performance so that the manufacturer can provide personal service to each user in time.
3. The front toe sensor and obliquity display are visible and convenient without the remote controller.
4. Recognizes the ultra-low chassis automatically, convenient for checking the cars with ultra-low chassis or streamlined shape cars.
5. Infrared 8-beams CCD is a full loop measurement system.
6. Special taxi inspection mode, enhance the taxi running efficiency.
7. 3D animation demo system makes operations easy to learn.
8. Two-lift adjustment function.
9. Bluetooth sensors have anti-jamming function that guarantees the stable running of the system under complex working conditions.
10. Black box functions record the working information, enhance the solution efficiency.
11. The main board with the high-performance CPLD chip dramatically speeds up calculation, simplifies the printed circuit board and
reduces the failure rate.
12. Independent front wheels alignment function.
13. Teaching adjustment animation function, self-taught.
Measuring accuracy & range:
| | | |
| --- | --- | --- |
| Measurement item | Accuracy | Measurement range |
| Total toe | ±4´ | ±4º |
| Individual toe | ±2´ | ±2º |
| Camber | ±2´ | ±4º |
| Castor | ±6´ | ±18º |
| KPI | ±6´ | ±18º |
| Setback | ±2´ | ±2º |
| Thrust angle | ±2´ | ±2º |
Configuration:
| | |
| --- | --- |
| Moveable Cabinet | 1 set |
| Brand computer | 1 set |
| Sensors (Zigbee) | 4 set |
| Steering lock | 1 set |
| Adjustment gasket | 5 set |
| Pedal Depressor | 1 set |
| Mechanical Turntable | 2 set |
| Clamp | 4 set |
| Communication Box | 1 set |
| 6-M emergency charging wire | 2 set |
| HP printer | 1 set |
| Wheel Clamp fastener | 4 set |
| Adjustment screw | 2 set |
6 other products in the same category: